The following was posted on NRB.org after their International Christian Media Convention in Anaheim, California.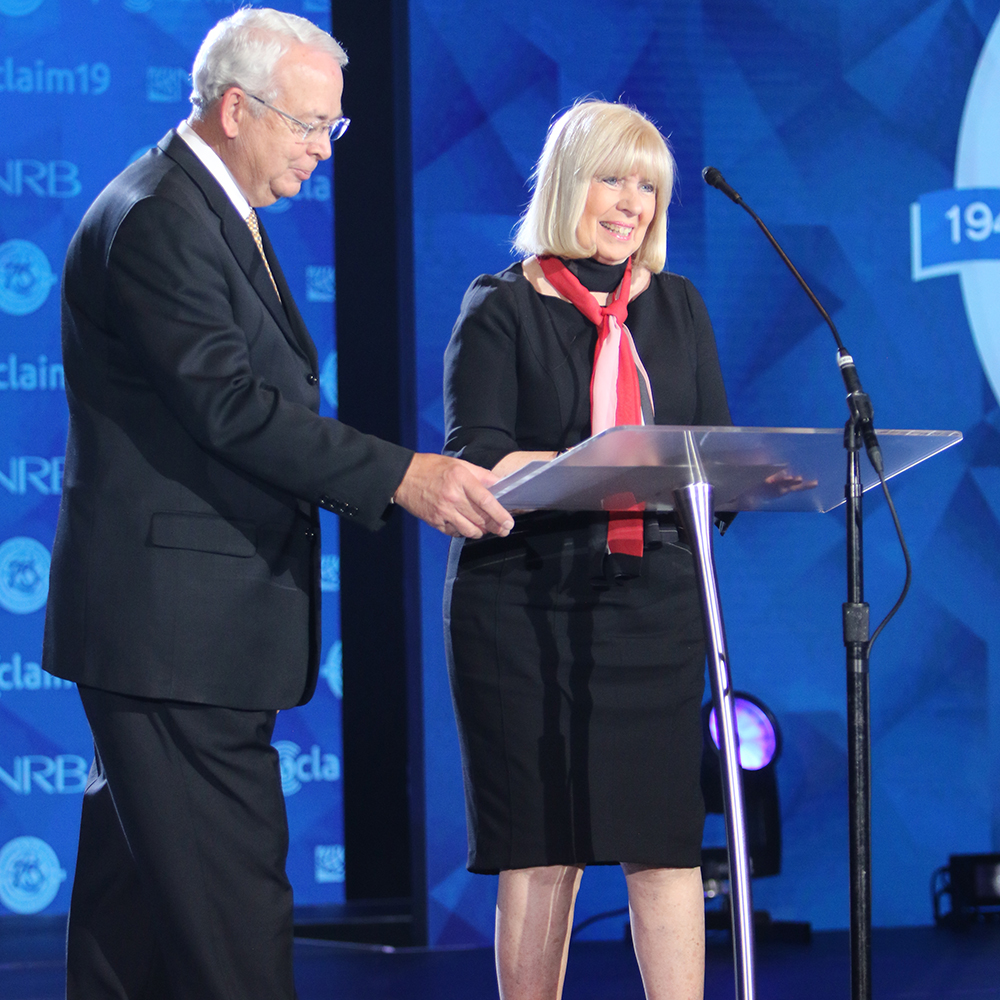 ANAHEIM, Calif. (NRB) – Dr. John F. Ankerberg of The John Ankerberg Show received the 2019 NRB Board of Directors Award on Thursday, March 28, during the Worship Service at Proclaim 19, the NRB International Christian Media Convention in Anaheim, California. His wife, Darlene, accepted the award on his behalf due to a health condition that prevented him from traveling.
The Board of Directors Award honors a Christian who demonstrates integrity, displays creativity, and makes a significant impact on society. In recognition that broadcasting is not the only way to witness to the power of the Gospel, the award winner may or may not be in the field of electronic communications.
"John Ankerberg has been a great blessing to the NRB family and to the wider body of Christ," said Troy Miller, executive vice president and COO of NRB. "He is a steadfast proclaimer of truth, and a servant leader who has certainly made a significant impact. We are happy to honor John with this award."
John Ankerberg in his writings and on his television program, The John Ankerberg Show, for the past 36 years has presented contemporary spiritual issues and defended biblical Christian answers. He believes that Christianity can not only stand its ground in the arena of the world's ideas, but that Christianity alone is fully true. He has spoken to audiences on more than 78 American college and university campuses as well as in crusades in major cities of Africa, Asia, South America, and the Islands of the Caribbean. He is a member of the Board of Directors of the National Religious Broadcasters. He and his wife, Darlene, have one daughter, Michelle.
The Board of Directors Award was one of 20 awards that were presented during Proclaim 19, which took place March 26-March 29, at the Anaheim Convention Center in Anaheim. For the complete list of 2019 award recipients, click here.

About NRB
The National Religious Broadcasters (NRB) is a nonpartisan, international association of Christian communicators whose member organizations represent millions of listeners, viewers, and readers. Our mission is to advance biblical truth, promote media excellence, and defend free speech. In addition to promoting standards of excellence, integrity, and accountability, NRB provides networking, educational, ministry, and fellowship opportunities for its members. This year, NRB marks its 75th anniversary as an association. Learn more at www.nrb.org.

About the NRB Convention
The annual NRB International Christian Media Convention is the largest nationally and internationally recognized event dedicated solely to assist those in the field of Christian communications. The dynamic and award-winning Exposition consists of around 200 organizations and is an active marketplace for those seeking products and services to enhance their own organization. The next Convention will be held at the Gaylord Opryland Convention Center & Resort in Nashville, Tennessee, February 25-28, 2020. For more information, go to www.nrbconvention.org.
Dr. Ankerberg has served this organization for more than 30 years and currently serves as a board member.
Past recipients have included Steve and Jackie Green, Dave Ramsey, Mel Gibson, June Hunt, and Todd Starnes from Fox News. I share this to thank you for your part in making this award possible. Through your generosity, many lives have been impacted for eternity. This award honors your legacy and faithfulness.